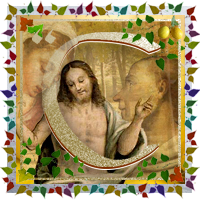 ontemplation is more precious than all works, and nothing else desirable can be compared with it." (St. Anthony of Padua)
Mt. St. Francis is set on 150 acres of woods, fields and ponds, offering retreatants a rustic, ascetical experience. We have 12 isolated cabins, most of them with a single room and very basic facilities: electricity, but no running water. You'll have to fill up your water jugs at the outdoor pump or laundry center. For cooking, there's a small gas stove and oven, plus a refrigerator and microwave. Each cabin is stocked with utensils and cookwear. You need to bring your own food or buy it at the local supermarket after you get here.
The beds are made of wooden boards, with a foam pad in place of a mattress. Linens and blankets are provided. Each cabin has a wood stove for heating and is stocked with wood and firestarters. The individual cabins have only an outhouse (toilet paper provided), but a heated building with shower, bathroom, washer/dryer, water jugs, and clean linens is also available; from the various cabins, it takes from 5 – 15 minutes to walk to the supply/laundry building. In the winter and early spring, you might need snow boots. Please ring the door bell upon arrival and the Cabin Master will bring you the keys to the cabin, and a flashlight if requested.
| | |
| --- | --- |
| Spiritual direction & Confession: | You may make an appointment with one of our priests. |
| House rules: | You are free to speak with the friars at appropriate times, but we ask you to respect the silence of the other retreatants (and them to respect yours!). Modesty of dress is required: no shorts, halter tops or tight clothing are allowed. Dresses and skirts should extend well below the knee. |
| Hours: | The entrance gate typically opens by 6:00am and is closed and locked around 9:30pm. We ask retreatants to arrive no later than 7:00pm. |
| Families & couples: | The cabins are intended for individual retreats (i.e. one person per cabin). We hope to make a cabin available in the near future which can accommodate a small family, but it is not yet ready. Please note that Mt. St. Francis is a retreat facility, not a honeymoon suite. Couples who wish to begin their married life with a prayerful, rustic retreat may do so, but they will be expected to stay in separate cabins. |
| Offering: | We regard the retreat cabins as an apostolate, not a business. As such, there are no set fees. We depend on your support to help us with the up keep of all that we do here. |
| Reservations: | Please make your reservation at least one week in advance. Contact our Cabin Master by phone at (607) 754-0001 or by the contact form below. For driving directions, please visit our contact page. |